All Season VS Winter Tires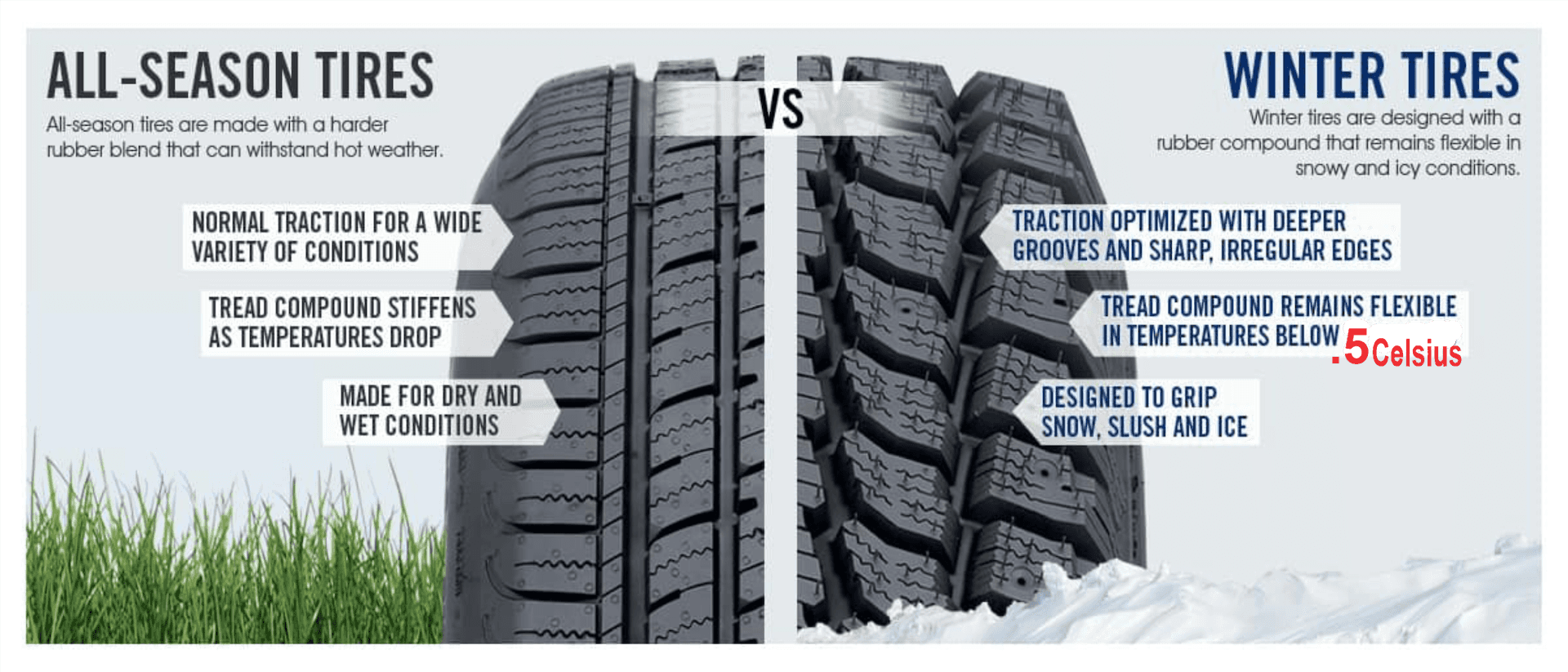 What's the difference between All Season Tires and Winter Tires?
ALL-SEASON TIRES
All-season tires help provide your car with stable handling and reduced tread wear in both wet and dry conditions. They usually have a lower rolling resistance which results in your car getting better gas mileage. And the tires are often quieter, so your car is more comfortable to ride in.
WINTER TIRES
If all-season tires are capable of handling ice and light snow conditions, then why should you spend the extra money to equip your car with winter tires? The answer is that even though all-season tires work satisfactorily in winter, they aren't always the best option for area's that get a heavy snowfall or great for every wintery weather condition.
Properly inflated winter tires are specially designed to manage winter conditions and give your car more traction when driving in the snow. Their special rubber compound stays flexible when the temperature drops and the tread pattern is designed to give you a better grip on snow, ice, and mixed conditions, so there's no reason to reduce tire pressure for added traction. Whether the road is wet or dry, the design and construction of these tires are a direct reflection of the specific intended use of the tire during winter driving conditions.
Your car will also have better braking performance in icy and snowy conditions using a winter tire. The aggressive tread reduces snow build-up, and the tread design has biting edges for greater traction. Most drivers find that winter tires provide them with a higher sense of confidence and control during challenging wintery weather.
Winter tires, however, are meant for icy roads and snow and have deep treads for greater grip. The tread compound is softer than regular tires, and the tires will wear out faster on warm or dry pavement resulting in more frequent replacement. So once the road becomes dry again, winter tires wear out quicker and don't provide as much traction as regular tires, so the handling and responsiveness of your car will be diminished and the ride will be noisier.
Despite the downsides, many drivers choose winter tires simply because they have enhanced winter performance and are better in the snow, especially deep snow where their better grip and softer compound give them an advantage.
THE BASIC DIFFERENCES
Using a winter tire that has compounds specifically designed to function better in temperatures near or below freezing is your best choice during winter weather in most northern climates. The tread compound will remain pliable despite the cold allowing adequate traction with the road surface.
In contrast, a dedicated summer tire will harden drastically when the temperature goes to freezing or below. This prevents adequate road surface interaction and can be dangerous while driving. All-terrain tires which are snow-rated do a much better job than summer tires of staying pliable during cold weather and generally provide fairly good traction in packed snow. However, the softer rubber compounds of dedicated winter tires when temperatures drop to near freezing is superior to any of the other types of new tires.
Most drivers find that winter tires will provide a much higher sense of confidence and better traction control during challenging wintry weather conditions. Their tread has biting edges for much greater traction on wet roads and icy, and their tread compound is soft in the cold weather which leads to better grip while driving. Our Technicians here at Freeway Mazda are specially trained and experienced to care for your car correctly. Once you've worked with our team to select the perfect tires for your needs, our certified technicians can handle all of your tire needs at your next scheduled service appointment. Be sure to check out our Mazda models with i-Activ AWD® for even more traction.