2021 Mazda MX-30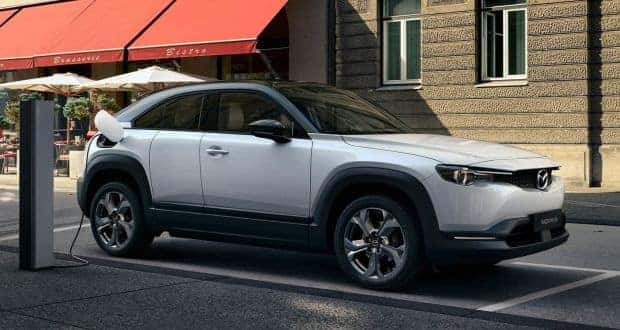 Mazda MX-30
The Mazda MX-30 is Mazda's first-ever electric SUV and a look into the company's electric future. We at Freeway Mazda want to share all of the information we know about this Mazda electric SUV with you. We'll go through the most up-to-date information on the trims, EV range, exterior, specs, and interior.
The Mazda MX-30 will enter club freestyle in 2021. It's a bold move because the back doors on a sports car or extra-cab truck seldom use, but they're likely to be used a lot more on a tiny SUV.
MX30 is an electric automobile that is a redesign for everyday use. With freewheeling doors and a large, luxury interior, contemporary design meets effortless flair. Experience a genuinely synergistic driving experience that combines Mazda's legendary handling with clever e-Skyactiv electric motor technology to carry you wherever life takes you.
The design of the MX30 echoes the creation of other Mazda SUVs (such as the CX30), although this electrified product has a different grille and a square shoulder line at the top of the wheel arch.
Why You Need To Go For Mazda Mx-30
Let's have a look at the Mazda MX30 specs for 2021.
1.    Mx30 Trims And Configurations
This first-ever Mazda EV may come in four or five different trim levels. We expect the MX-30 will follow the same trim levels as other Mazda SUVs, with Select, Preferred, Premium, Sport, Touring, Grand Touring, and Signature options, although Mazda USA has yet to confirm this.
2.    Mx30 Performance
The MX-30 offers a one-of-a-kind driving experience designed to provide pure driving pleasure in every scenario. The MX-30, according to Mazda, has a Jinba-Ittai driving performance that is unique to Mazda. The Mazda MX-30 will also include a single electric powertrain under the hood.
That implies it will only be available as a front-wheel-drive vehicle, but it will feature driving modes for snowy and other dangerous weather situations.
3.    Mx30 Battery and Range
The Mazda MX-30 has a Lithium-ion battery charged with both standard AC and quicker DC chargers. The EV battery cell is prismatic with a total voltage of 355 volts and a total electric power (battery capacity) of 35.5 kWh.
The MX-30's electric range is unknown, but we expect it to be about 250 miles to compete with other electric vehicles.
4.    Mx30 Exterior design
The Mazda MX-30 has a coupe-like appearance with a strong C-pillar slant. When the doors are open, the integrated B-pillar provides for fast access to the back seat. The thin front grille, which blends in flawlessly with the headlamps, adds to the elegant appearance.
The MX-30's external measurements are 173 inches long, 70 inches wide, and 62 inches high, with a total wheelbase of 104.5 inches.
5.    Mx30 Interior design
The MX-30's cabin is composed of natural and sustainable materials. We don't know how much cargo space the new Mazda EV will offer, but there should be enough if it's on the level with the CX-3.
Conclusion:
The Mazda MX-30 is a genuinely enticing EV in several ways. Inside and out, it looks fantastic, and no other EV in this price range delivers such a well-balanced ride and handling. The Mazda range, charging capability, and straight-line performance is not good enough compared to similarly priced competitors.